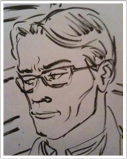 Peter Shershin is an 20-plus year veteran of the music industry. He has spent the majority of his career at Sony Music where he has held positions in Finance, A&R Administration, and A&R (where his signings included
Mercury Rev
and
The Boo Radleys
- both who have earned gold records). Peter has held various positions in A&R Administration totaling some 10 years alone.
Peter set up Breathing Protection and began his management career in late 1994. His clients include producers Dave Fridmann (Rolling Stone "Hot" producer in 1999, producer of Mercury Rev, The Flaming Lips, Jane's Addiction, Weezer), Tony Doogan (Belle & Sebastian, The Delgados, Mogwai), Sandy Pearlman (Blue Oyster Cult, The Clash), Paul Mahajan (Yeah Yeah Yeah's, TV on The Radio, The National) and Mercury Rev bassist Anthony Molina (Mercury Rev, Dead Heart Bloom, Simrit Kaur).

Peter holds a BA in Mathematical Economics from Colgate University and an MBA from New York University in Finance.