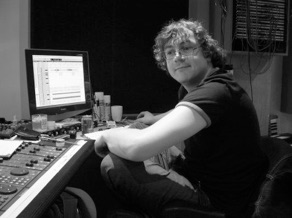 Tony Doogan has been honing his production and engineering skills since 1990, mostly working out of Glasgow, Scotland with the bands based in that fertile scene.

Tony is probably best known for his work with Belle and Sebastian (Rough Trade/Jeepster/Matador), whose releases inspire the most fanatical cult this side of Jim Jones.  Tony is an integral part of the B&S team, having worked with them beginning with their second album.  Tony also has also been a major part of The Delgados (Chemikal Underground/Beggar's Banquet) releases.  Tony co-produced and recorded critically acclaimed album, Hate.  Their prior album, The Great Eastern, was nominated for the UK's prestigious Mercury Prize.  In addition, Tony has been closely associated with Mogwai, having worked on their most recent releases, Mr. Beastand Happy Songs For Happy People (Matador/ PIAS), as well as Rock Action and the Stanley Kubrick EP.

Tony has contributed to various soundtracks, including Belle & Sebastian's "Seymour Stein" from High Fidelity and "Slow Graffiti" from The Acid House (based on the Irvine Welsh (Trainspotting) novel).  Tony worked with Belle & Sebastian on the soundtrack to Storytelling, by the acclaimed Todd Solondz.  Tony also collaborated with David Byrne on the soundtrack to the David Mackenzie film, Young Adam, which starred Ewan McGregor. He also collaborated with Mogwai on the film soundtracks to Darren Aronofsky's The Fountain and the documentary Zidane.

On the basis of The Boy With The Arab Strap, Belle & Sebastian received the "Best Newcomer" award at the Brits.  Three of the albums Tony has worked on with B & S have achieved either gold or silver status.

Tony has worked with a number of acclaimed Canadian bands.  Tony produced, engineered and mixed the wonderful Welcome To The Night Sky and New Inheritors (Labwork Music/ EMI) for Juno Award winners Wintersleep.  He also mixed Invisible Republic (Paper Bag Records), the majestic second album by Young Galaxy, and produced, recorded and mixed Hey Rosetta!'s wonderful Seeds (Sonic Records) which was nominated for Canada's prestigious Polaris Prize along with albums by Arcade Fire, Austra and Braids. Tony has completed the major label debut of the amazing Spanish artist, Russian Red for Sony Spain.

Tony produced, recorded and mixed one half of the amazing debut album by ex-Libertine Carl Barat's Dirty Pretty Things, Waterloo To Anywhere(Vertigo/Mercury/Interscope), which was certified gold.  He produced, recorded and mixed the lauded second album by Broken Records, Let Me Come Home (4AD). He mixed the solo effort by Roddy Woomble's (of Idlewild fame) beautiful new album, The Impossible Songs & Other Songs, for EMI.  He co-produced, recorded and mixed the brilliant third album, A Brighter Beat, by ex-Arab Strap guitarist Malcolm Middleton for UK indie Full Time Hobby. Tony added additional production and mixed Aussies Wolf & Cub's debut (Dot Dash / Remote Control / 4AD). He produced/recorded/mixed Superabundance, the second album from the UK's The Young Knives(Transgressive/Warner). He recorded the critically acclaimed Super Furry Animals album, Phantom Power which made numerous year-end best-of lists.  He produced, recorded and mixed the debut release from the balls-out punk of Todd (Looser), which received a 5K review in Kerrang!  He has produced albums for Teenage Fanclub (Creation/Geffen), Mojave 3 (4AD) and Hefner (Too Pure). Tony's other work includes Looper's She's A Knife (Mute), The Mountain Goats' Tallahassee (4AD) and the second album (Son Of Evil Reindeer ) by the Reindeer Section, a Glasgow superstar project involving members of Belle & Sebastian, Mogwai, Snow Patrol, Astrid, etc. 

Tony is not adverse to some globe-trotting, as he recorded jam band (by way of Radiohead) Lake Trout for Rx/ Palm in Dave Fridmann's Tarbox Road Studios in upstate New York.  Tony has traveled to Australia to record Aussies Speedstar for Capitol Australia and then toThailand to work with Thai superstars Modern Dog where he produced their album That Song including the number #1 single, "Found."  Japan's superstars Quruli (JVC/ Japan) came to Glasgow to work with Tony.  And Tony recently mixed a number of tracks for Sweden's majestic Surrounded (One Little Indian). Tony has also mixed various live recordings of numerous unsigned up and coming Scottish bands for Miller Beer's "The Mill." Bands to have received a career boost from exposure through The Mill include Broken Records (4AD) and Twin Atlantic (Red Bull Records).

Tony's Castle of Doom Studios is located in the heart of the city centre of Glasgow, Scotland.  It is well suitable for basics, overdubs and mixing outfitted with a Euphonix CS-2000 board. The studio is equipped to mix for 5.1 surround sound and sync to picture for film work.

Tony plays guitar, bass, percussion, writes, sings, and does vocal coaching and programming embellishments.