Anthony Molina had a vision from early on.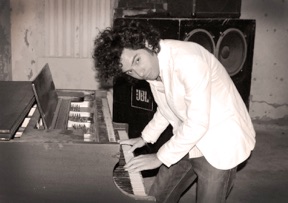 "I wrote Ronald Reagan a letter about being an astronaut. I got a response from NASA, and the fact that they wrote back just blew my mind." There was something about the stars then, and the sky...

Of course a boy's initial dreams of space often shift, but given Molina's personal and professional arc, the analogy is more than relevant. Over the years he has proven a near celestial figure in music- defined by vital collaborations (Mercury Rev, Dead Heart Bloom, Sondre Lerche) and spacious yearnings as a musician, producer, engineer & DJ.

Molina's musical journey began, literally, in a church. "My dad was a pastor," he explained.

"It was very much this spiritual connection." There was a Hammond B3 at church & a gospel choir. From the age of 7, Molina took up the alto saxophone for the band, while his brother Jason played the trumpet- a musical collaboration that would alternate roles over the years. "I felt like I was playing for a higher purpose, & that very quickly became the purpose of being a musician. It was sort of like this," he said. "I grew up playing for God."

"I started collecting Casio one octave keyboards," said Molina. "With the saxophone, I was starting out with melodies. The earliest Casio's were monophonic- you could only play one note at a time. Which was cool because I had a limitation there." "I was under the impression I was inventing chords," he said with a laugh. Self-taught on the keyboards until his teens, Molina went on to start a serious study of classical piano with two of it's most accomplished teachers Pilar Leyva and husband Jorge Zorro-Sanchez & Molina would go on to score High Honors at The Royal Conservatory of Music Toronto.

Soon after, Molina's high school music teacher in Rochester invited him to sit in on saxophone with his own band the next day. Rehearsing in the school, Molina found himself on stage with Dave Fridmann, (Flaming Lips, Mercury Rev, MGMT) who was playing bass. Molina hit it off with Fridmann, & sent him a demo of his band. A few years later, Fridmann would produce Molina's band in his studio. And a few years after that, Fridmann introduce Molina to Mercury Rev- the legendary outfit that has become recognized worldwide for their brand of cinematic, avant-garde space rock. Starting out on synthesizers for a world tour, Molina was asked to join the band in a more official capacity soon after. "It's very cosmic," said Molina about the Rev.

Based in Upstate, NY's Catskills, the association with Mercury Rev brought Molina to Kingston in 2001 following the band's world tour. Molina's collaboration with the band has never ceased. "It opened me up more," said Molina. "It helped round me to expand my experience of music."

Ever since his first Casio at age nine, Molina has been assembling recording equipment. The stereo system evolved into a four track and then an eight track. "I was just so grateful I could record sounds," said Molina. As engineer and producer, Molina welcomes a wide range of artists into his recording sanctuary White Light Recording Studios. Through these doors he has led many through their own creative process & has learned more about his own. His recording studio has evolved into a hybrid of the two- a balancing act between old school soul and futuristic sonic opportunities. It also recalls the sanctuary of days past.

A deep resonance with sound healing and Kundalini Yoga has brought Molina to explore the vast implications of the Gong. The Gong is said to contain all the sounds of the Universe, able to clear the subconscious. Molina's attraction was immediate. "There is something other worldly going on with it. I gravitate towards it. No two Gongs sound the same, no two players sound the same.

It just seemed like the most logical step, after playing in a cosmic rock band."

And so, Anthony Molina presents more than a touch of renaissance. Each passion fuels the next. He wears his musician's hat as a producer, and his producer's hat as a DJ- which has gone on to hone his sense of time and build an expansive repertoire in his mind's eye. With DJ residencies in New York City, and performances in Amsterdam, Auckland, Copenhagen, LA and Madrid, Molina brings a soulful mix- what typically evolves into Latin rhythms mixed with soul singers, and often, house music. He is known for telling a lengthy story over the course of his set with the collection of lyrics. "If you're good at reading the crowd, you can take them on a journey," said Molina. "You're transported." Clearly, the transport and the journey are themes Anthony Molina knows well.